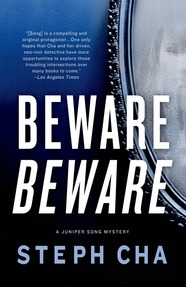 Juniper Song—an unforgettable new crime heroine hailed as "young, sharp, and worldly-wise" by New York Times bestselling author Meg Gardiner—returns in this smart, fast-paced follow-up to Steph Cha's critically acclaimed debut Follow Her Home.
Working as an apprentice at a P.I. firm, Juniper Song finds herself nose deep in a Hollywood murder scandal where the lies may be more glamorous than most, but the truths they cover are just as ugly. When a young woman named Daphne Freamon calls looking for an eye on her boyfriend, her boss punts the client to Song. Daphne is an independently wealthy painter living in New York, and her boyfriend Jamie Landon is a freelance screenwriter in Los Angeles, ghostwriting a vanity project for aging movie star Joe Tilley. Song quickly learns that there's more to this case than a simple tail, and her suspicions are confirmed when Tilley winds up dead in a hotel room. Nonetheless, when Jamie becomes the prime suspect in the movie star's murder, she agrees to help the charismatic couple discover the truth, even as the police build their case against Jamie. As she chases leads and questions grieving Hollywood insiders, she uncovers a sordid layer of blackmail and hidden identities, of a history of violence that leaves no one—not even Song—safe from judgment.
An edgy, gorgeously written read, Beware Beware is perfect for fans of Megan Abbott and Tana French. It's a tale that twists around the lies we tell ourselves and others, that examines the ugliness under the skin-deep glamor of L.A.
Praise for Beware Beware
"Before this cautionary tale is over, secrets will be revealed, lies within lies told, more people injured or killed and Song's core values compromised in ways that will have psychological reverberations for years, and books, to come. Nathanael West and Raymond Chandler would be proud." —Los Angeles Times
"Engaging… Song soon becomes caught in a complex plot involving deception, betrayal, and revenge.  Cha follows noir conventions, with Daphne as femme fatale and Song forced into morally ambiguous choices, but she also offers a plucky heroine, warm secondary characters, and a vivid portrait of L.A.'s Koreatown." –Publishers Weekly
"In her second outing, Korean Song defies the stereotype of the Asian American woman, working to overcome her background and what she suffered in Cha's debut, Follow Her Home (2013), and facing a formidable moral dilemma in the process. This is prime L.A. noir with a feminist slant." —Booklist

"Enjoyable… a part-mystery, part-thriller that'll keep you turning the pages." —Mochi Mag