Amazon Apple Barnes & Noble Google Play Kobo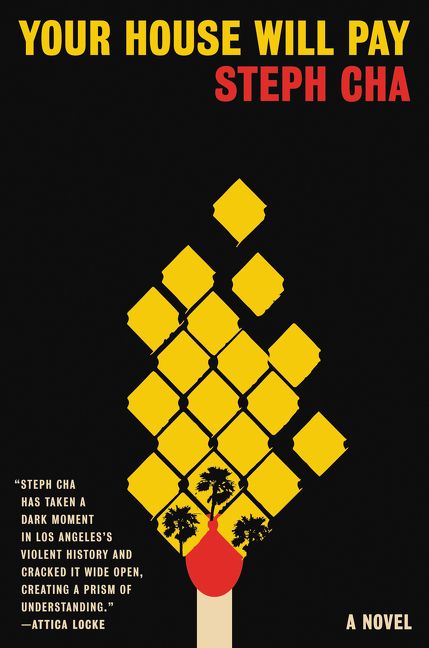 Winner of the California Book Award
Winner of the Los Angeles Times Book Prize
Finalist for the New York Public Library Young Lions Award
A Barnes & Noble Discover Great New Writers Pick
A Wall Street Journal, Chicago Tribune, Buzzfeed, Book Riot, and LitHub Best Book of the Year
"With Your House Will Pay, Steph Cha has taken a dark moment in Los Angeles's violent history and cracked it wide open, creating a prism of understanding—of the pull of generational violence and its enduring devastation, but also of the power of human grace against all odds. It's a touching portrait of two families bound together by a split-second decision that tore a hole through an entire city." —Attica Locke, Edgar-Award winning author of Bluebird, Bluebird
A powerful and taut novel about racial tensions in LA, following two families—one Korean-American, one African-American—grappling with the effects of a decades-old crime
In the wake of the police shooting of a black teenager, Los Angeles is as tense as it's been since the unrest of the early 1990s. Protests and vigils are being staged all over the city. It's in this dangerous tinderbox that two families must finally confront their pasts.
Grace Park lives a sheltered existence: living at home with her Korean-immigrant parents, working at the family pharmacy, and trying her best to understand why her sister Miriam hasn't spoken to their mother in years. The chasm in her family is growing wider by the day and Grace is desperate for reconciliation, and frustrated by the feeling that her sister and parents are shielding her from the true cause of the falling out.
Shawn Matthews is dealing with a fractured family of his own. His sister, Ava, was murdered as a teenager back in 1991, and this new shooting is bringing up painful memories. Plus, his cousin Ray is just released from prison and needs to reconnect with their family after so many years away. While Shawn is trying his best to keep his demons at bay, he's not sure Ray can do the same.
When another shocking crime hits LA, the Parks and the Matthewses collide in ways they never could have expected. After decades of loss, violence, and injustice, tensions come to a head and force a reckoning that could clear the air or lead to more violence.
Reviews & Praise
"Cha does a masterful job imbuing each character with nuance and care." —Buzzfeed
"As the action moves through SoCal's diverse and divided communities, grief, rage, repentance, duty to family and more force readers to consider all sides of complex moral issues. Add the journalistic and police-procedural elements, not to mention capturing the chaos of the 1992 Rodney King riots, and it's clear this is a high-stakes novel." —L.A. Times
"Cha…offer[s] an incisive and searing look at race relations, violence, and the intersection of disparate traumas. It's a riveting, revelatory novel—a must-read." —Nylon
"A riveting thriller about two families' heartbreaking struggles to confront and transcend rage and loss." —Kirkus
"Your House Will Pay is a propulsive and well-plotted novel set in Los Angeles where crime and tension are at an all-time high. In Cha's narrative that explores race, class, and community in Los Angeles, her characters must confront their histories and truth." —The Millions
"Your House Will Pay never downplays the impacts of racism and trauma, but Cha's nuanced portrait of the two families in crisis sparks hope for the possibility of connection and mutual understanding, if not forgiveness. —Maris Kreizman for Pacific Standard
"Steph Cha's Your House Will Pay has got it all. This suspense-filled page-turner about murder, repentance, and forgiveness draws from the fraught history of Los Angeles, where America's immigrant dream bleeds into America's racist nightmare. The novel would have been relevant thirty years ago. It will likely be relevant thirty years in the future." —Viet Thanh Nguyen
"A marvel. Cha finds new angles on a city that has been the focus of myriad stories and films. But this one is unique and totally gripping." —Michael Connelly
"A gripping and deftly plotted story of two families, and two communities, set in the aftermath of a police shooting in Los Angeles. Steph Cha's Your House Will Pay is a sensitive portrait of racial tension, buried memory, and the difficulty of reconciliation." —Laila Lalami
"In Your House Will Pay, Steph Cha fearlessly explores the duality of LA's promise and betrayal, its vision of new beginnings and the brutal divisions that cut between race and class.  Cha takes her place as one of the city's most eloquent storytellers in this soul-searching illumination of one of the tragedies at the heart of the 1992 LA riots." —Walter Mosley
"With Your House Will Pay, Steph Cha has taken a dark moment in Los Angeles's violent history and cracked it wide open, creating a prism of understanding—of the pull of generational violence and its enduring devastation, but also of the power of human grace against all odds. It's a touching portrait of two families bound together by a split-second decision that tore a hole through an entire city." —Attica Locke
"A haunting portrait of two lives—and a city—in turmoil, Your House Will Pay is both a crackling page-turner and a deeply felt work of eloquence, clarity, and devastating insight. With this riveting standalone, Steph Cha firmly establishes herself as not just one of crime fiction's most exciting young voices, but one of its most exciting voices—period." —Elizabeth Little
"Steph Cha's Your House Will Pay is extraordinary, a deeply-felt and sharply-observed exploration of the ties the bind, and divide, family, community, and nation. It's moving, compelling, surprising, funny, explosive, and deeply human—an unforgettable novel." —Lou Berney
"A propulsive, lacerating novel about two families caught in the turmoil of a city and nation in crisis, and the tensions that drive history and fate, pit freedom against love, and lace our own best impulses to our worst. Fearless, insightful, and alight with a brutal compassion, Your House Will Pay is a devastating exploration of grief, shame, and deeply buried truths, and the hope that endures when all else seems lost." —Catherine Chung
"A thrilling and nuanced look at race relations in Los Angeles that depicts family life, grief and inheritance with such humanity and complexity. A wonderful thoughtful and exciting [novel] that will stay with you." —Nikesh Shukla
"Your House Will Pay is the goods. Sharply written, tragically and movingly relevant." –Rob Hart
"Fresh, thoughtful, thrilling." –Ian Rankin
"A real-life racial incident is transfigured into a riveting thriller about two families' heartbreaking struggles to confront and transcend rage and loss…Cha [blends] a shrewd knowledge of cutting-edge media and its disruptive impact with a warm, astute sensitivity toward characters of diverse cultures weighed down by converging traumas. Cha's storytelling shows how fiction can delicately extract deeper revelations from daily headlines." –Kirkus (Starred Review)
"Based on a true case, Cha's ambitious tale of race, identity, and murder delivers on the promise of her Juniper Song mysteries (Dead Soon Enough, etc.)…This timely, morally complex story could well be Cha's breakout novel." –Publishers Weekly (Starred Review)
"A gripping, thoughtful portrayal of family loyalty, hard-won redemption, and the destructive force of racial injustice. Cha, author of the Juniper Song PI series, offers a strong contender for the summer's blockbuster read." –Booklist (Starred Review)
"Cha unflinchingly and compassionately examines issues of race, family, generational violence, and the transformative power of forgiveness in this unforgettable novel." –Library Journal (Starred Review)